Support groups can be one of the most beneficial ways for someone to overcome issues like depression, loss, addiction, student stress and more. That's why we are on a mission to make high-quality support groups accessible to everyone. And this wouldn't be possible without your support.
When Leo's twin brother, Alex, passed away, his friends and community were there to support him. But despite their best efforts (and losing a friend of their own), it was hard for anyone to understand what losing a twin could possibly be like. That's why when Leo attended the Twinless Twins Annual Conference for the first time a few months after, it gave him an unprecedented amount of support and comfort to be surrounded by people who understand.
​
However, losing a twin is not a common issue. And thus, the meetings held by the Twinless Twins Support Group are infrequent and often held far away from many members. That's what sparked our passion for creating a platform that allowed people to find support groups whenever and wherever no matter how common or rare their struggle is.
Grove's mission is to provide you access to the best and most convenient support group possible. We realized that people often struggle to attend in-person support groups due to the fear of their issue being known, not having a group near them, or a lack of transportation to and from meetings. Online support groups overcome these issues, but at the expense of the valuable in-person connection felt at traditional meetings.
​
Grove holds support group meetings in virtual reality so that it can combine the convenience of online with the intimacy of in person. And with VR headsets as low as $149 now, they are quickly becoming more easily accessible.
Remain Anonymous
While many support groups are considered "anonymous", potential new members often shy away because the other people at the group will still know who they are. What if someone sees me going into the meeting? Or I happen to know someone at the meeting? These thoughts can be a big barrier for anyone seeking a support group. But Grove eliminates these worries using avatars.
Grove allows you to interact and communicate with the other group members like you would in a traditional support group, but instead of people seeing you, they see your avatar.
This eliminates any chances of someone finding out that you are part of a support group and with it, eliminates the worries of attending one.
​
Even better is that you can make your avatar look however you'd like! Want it to look like you? You can do that. Want it to have a different hairstyle, gender, eye color, etc.? You can do that too!
Attend From Anywhere
Attending support group meetings isn't always as easy as it sounds. Whether it's because you live in a rural part of the country or your struggle is uncommon, a certain topic might just not have regular support groups in your area. Other times you might have issues finding transportation to and from meetings or perhaps you've gone on vacation but still want to attend. With Grove, there is no need to think about how you'll get to the meeting.
As long as you have an Oculus headset and internet, you are able to attend your support group meetings. So, no matter if you're at home or on the go, your support groups are accessible anywhere at any time. Whether you might be joining your normal support group during a vacation or need more immediate help, support groups are only seconds away.
Find The Perfect Group
It is oftentimes confusing where to even start looking for a support group. While some types of support groups, like AA, have been around for a long time and are easy to find and join, other topics aren't quite as easy. Grove brings a variety of support group topics into one central location for you to search through.
And what if you can't find the group topic you're looking for? Well, then you can make your own group! Just because you can't find the group on the platform doesn't mean that you're the only one dealing with it, which is why we give people the ability to create their own groups. Creating a group takes a couple more steps than joining one, but the process is still very simple. Other members will then be able to find your group in the future.
Free To Use
Yes, you read that correctly. Grove is entirely free to use. As stated earlier, our mission is to make high-quality support groups accessible to everyone and we feel that charging would place another barrier between you and the help you need. While we are on the subject of money, the platform is offered entirely free, but we do need a little bit to keep the lights on, hence our Kickstarter! So if you'd like to keep the product free and allow you, a loved one, or your community to use it, please consider backing.
​
But, if it's free then it must have ads everywhere, right?
No Ads
We do not believe that the best support group environment would be one with ads being shown to you constantly. That's why we are not including any sort of advertising into Grove. Nothing would ruin a support group meeting faster than being interrupted by an ad.
Meet In Any Environment
In the past, support groups have been confined to meeting in offices, churches, designated buildings, etc. But Grove removes those limits. Using VR, you can meet in any kind of environment you'd like. Currently, Grove includes a relaxing Campfire environment where you and your fellow members will sit around a campfire on a still summer night. But that's just the start! We have plans for many more environments in the future. Underwater, in a cabin on a snowy mountain, next to a lake, you name it! Any environment is possible in VR.
If you would like to be notified once our Kickstarter is live, please check out our Kickstarter Page.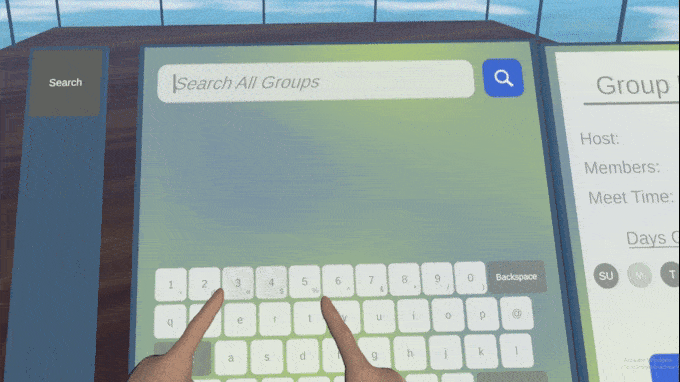 We need all the help we can get telling people about Grove. Click here to let us know you're willing to help.
Unfortunately, we won't be able to keep Grove running without support. Let us know that you'd like to support us.
Mental health is not a problem that can be solved alone. Let us know if you think we'd make a great partner!